About the Extruder
The Tabletop Extruder 30/600 is based on an open source design which we developed together with Precious Plastic in 2019-2020. Since then, the design went trough some design optimations to make the machine more robust, more efficiënt and better to handle shredded flakes. Check out the video below to see more about the original version.
The current version comes as standard with a compact tabletop frame with a swiveling electronics and control box for ergonomics. The frame can be mounted on any table using adjustable feet or mounting directly.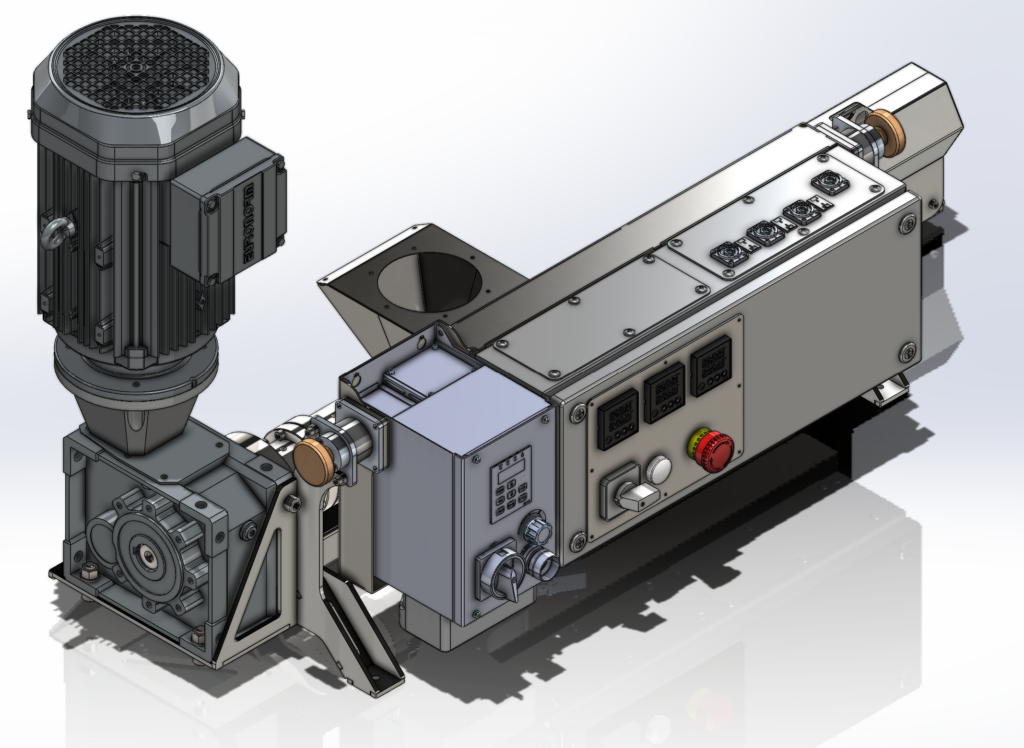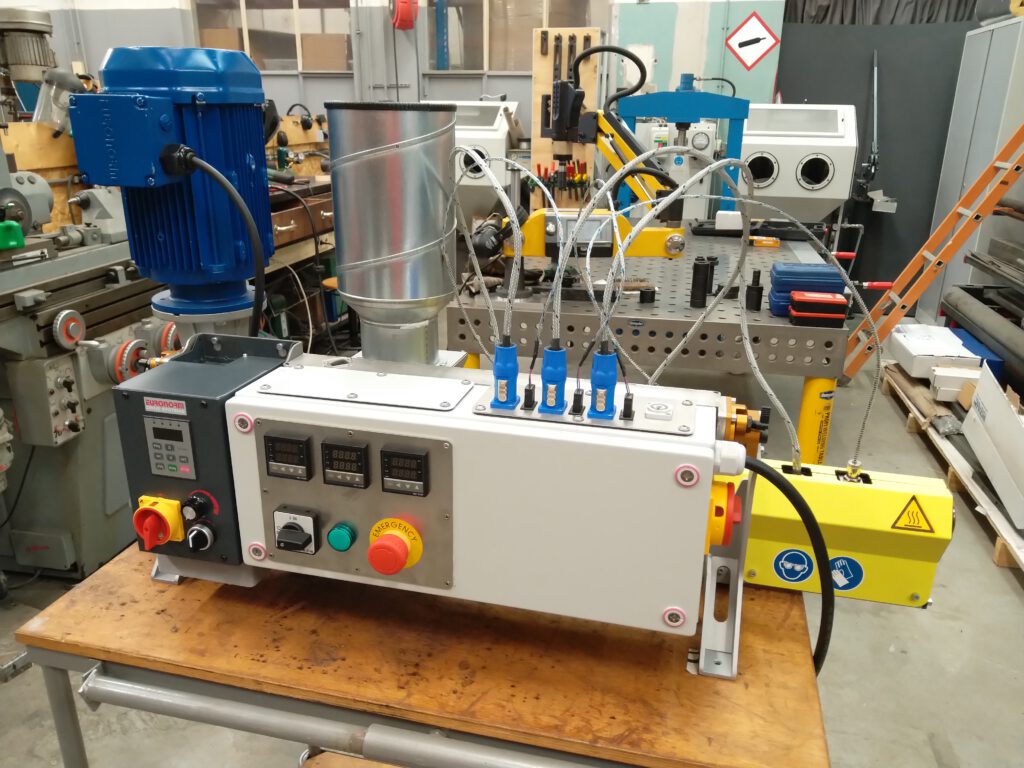 A version with a larger frame with integrated electronics box is available on request.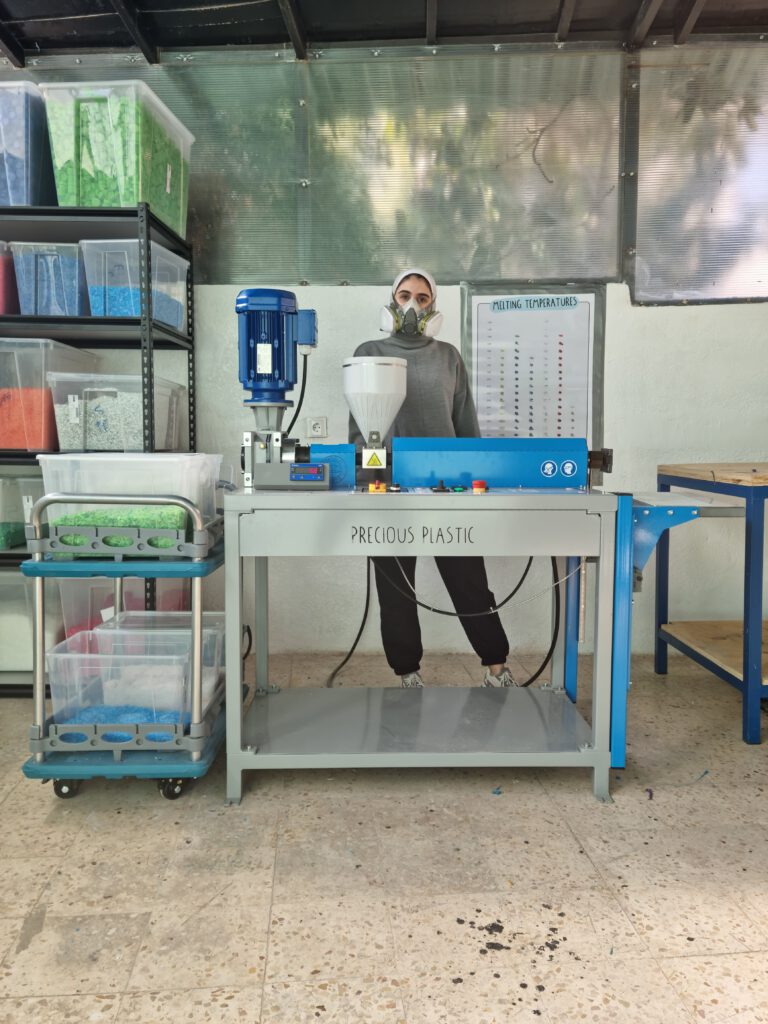 The tabletop extruder comes with a standard multi-purpose 3-zone screw as designed for the original Extruder Pro. Other screw designs based on customer specifications are possible for an additional fee. This may affect lead times.
Specifications
Extruder Pro Tabletop standard Specification
Type
Single Screw, Tabletop Extruder Pro
Version
Version 1.5
Weight
+/- 85
kg
Dimension (L x B x H )
1130 x 500 x 650
mm
Total Power (W)
4,8
kW
Voltage
400
Vac
3 phase
AMP
16
A
Screw diameter
30
mm
Length of screw (mm)
790
mm
Effective screw length
600
mm
Motor Type
Euronorm DS100M2/IEC/FF215/TF
Reductor type
Euronorm Hypoïde JKM48B
Max. Motor and Inverter power
3
kW
E-motor torque @ 50 hz
10,1
Nm
Gearbox reduction
15
Motor efficiency
87%
Motorreductor efficiency
92%
E-Motor speed @ 50 hz
2840
RPM
Effective Screw torque @ 50 hz
121,2
Nm
Screw speed @ 50 hz
189
rpm
Motor shaft diameter
30
mm
Motor output shaft type
Hollow with keyway
Heating zones
3
Heating power: max.
1,8
kW
Max. Output [kg/hr]
10 – 15 kg/hr (depends on material and die)
Note, the extruder can be supplied with as a single phase version as well. In that case the motor power will be max. 2,2 kW and the gearing ration is changed to reach the same torque values as the standard 3 kW version.
Pricing
| | | | |
| --- | --- | --- | --- |
| Configuration | Price | Lead time | Remarks |
| (Fully build) Tabletop extruder 3 kW – Standard electronics |  € 8.884,00 | 8-10 weeks | Turnkey, Includes shipping box (export) |
| (Fully build) Full frame (V1.2) extruder 3 kW – Standard electronics | € 9.966,00 | 8-10 weeks | Turnkey, Includes shipping box (export) |
| Extruder base + Motor adapter + hopper + motor | € 3.562,00 | 4-6 weeks | Excluding heating elements |
| Extruder base + motor adapter + Hopper | € 2.789,00 | 4-6 weeks | Excluding heating elements |
| Extruder base + motor adapter | € 2.473,00 | 4-6 weeks | Excluding heating elements |
| Electronics box + VFD 3kW | € 2.402,00 | 3-5 weeks | Excluding heating elements |
| Heating elements set (DH500, L190 mm) | € 650,00 | Few days | Including thermocouples and connectors |
Prices are ex. VAT and doesn't include shipping and customs fees. Other custom configurations may be possible on request,
Contact us trough the button below for more info or to request a quotation