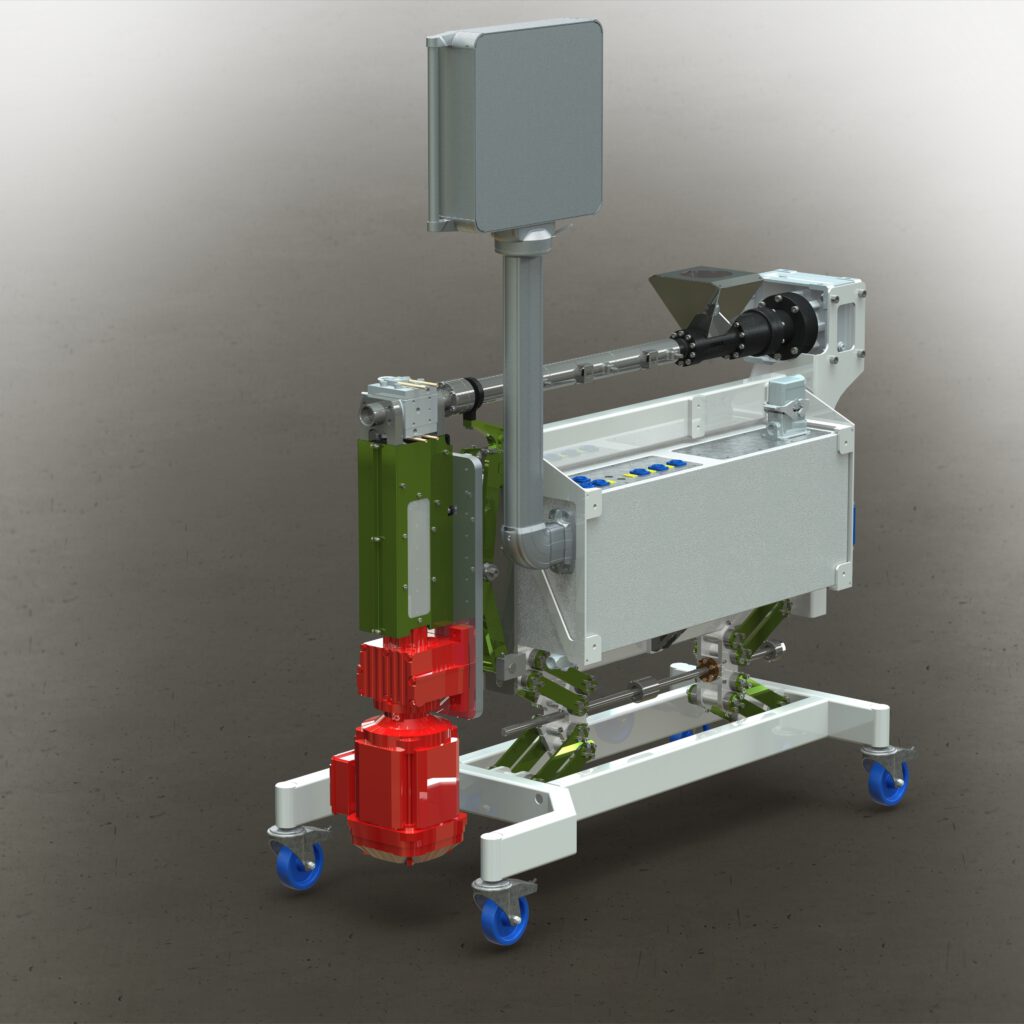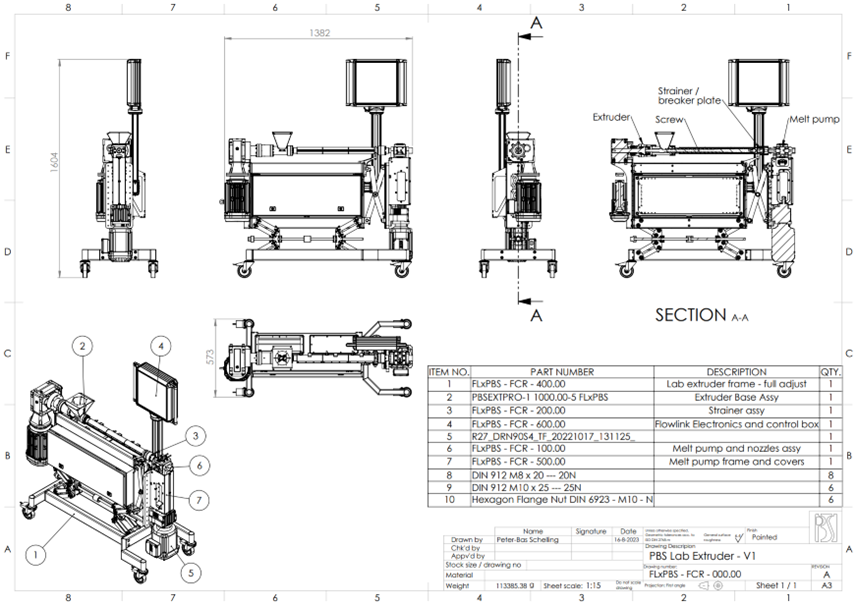 The concept
The PBS Lab extruder MK1 is based on the standard tabletop extruder 30/600. This extruder is combined with a melt pump and controlled by a "Flow-Connect" controller by flowlink BV.
The package is fitted on a height adjustable frame, with an aditional horizontal lift to aid in changeovers, cleaning and maintenance operations. The whole package weighs <150 kg with a compact and mobile design.
Melt pump benefits
In this concept, the extruder functions as a feed pump to the melt pump, where the extruder serves the following functions:
Melting and mixing the polymer
Feeding the melt pump with a constant pressure and temperature
The melt pump in turn offers the ability to accurately control the troughput and allows the extruder to reach higher pressures at the output up to 350 bar. Besides that, the melt pump has the folowing benefits in processing:
Reduction of pultation
Reduced melt swirl
THe frame
The horizontal adjustment allows for flexibility in fitting auxiliary equipment between the extruder and pump like:
Static mixers
Breaker plates / filters
Valves
Measuring equipment
The machine can also be fitted with vertical height adjustment to adjust the nozzle heigth within a specific range.
Product sheet
Specifications
Specs Lab extruder PBS Machinery / Flowlink
Machine description
Single Screw extruder combined with a melting pump, controlled by a Flowlink "Flowconnect" system. Lightweight and mobile design.
Machine Flow control description
Automatic flow control based on setting a defined pump speed while controlling the pump input pressure by regulating the extruder speed.
Physical specs
Weight
150
kg
Approximation
Length
1210
mm
Length without melt pump
Width
580
mm
Height
1610
mm
Min height lowest frame position
Min. Nozzle height from floor
933
mm
Max. Nozzle height from floor
1053
mm
With height adjustment fully extended
Power specs
Machine Voltage
400
Vac
3 phase
Extruder motor power
3000
W
Extruder heating power
1800
W
Melt pump motor power
1100
W
Melt pump heating power
800
W
Total peak power consumption
6700
W
Rated peak current
16,75
A
Heating zones extruder
3
Heating zones melt pump
1
Extruder specs
Screw diameter
30
mm
Standard multi-purpose with option for mixing tip
Length of screw (mm)
790
mm
Effective screw length
600
mm
Screw L/D ratio
20
Extruder motor Type
Euronorm DS100M2/IEC/FF215/TF
Extruder reductor type
Euronorm Hypoïde JKM48B
E-motor torque @ 50 hz
10,1
Nm
Gearbox reduction
15
Extruder motor efficiency
87,1%
Extruder reductor efficiency
92%
Effective Screw torque @ 50 hz
121,25
Nm
Other ratios available
E-Motor speed @ 50 hz
2840
RPM
Screw speed @ 50 hz
189
rpm
Motor shaft diameter
30
mm
Motor reductor output shaft type
Hollow
Melt pump specs
Melt pump motor type
SEW-Eurodrive R27 DRN90S4/TF
Pump motor torque @ 50 hz
7,22
Nm
Motor efficiency
84,5%
Motor speed @ 50 hz
1455
RPM
Gearbox reduction
10,13
Output speed @ 50 hz
144
RPM
Effective output torque @ 50 hz
61,8
Nm
Pump stroke / rev
2,78
CC/rev
Volumetric efficiency
95%
Max theoretical troughput pump
379,3
CC/min
22760,0
CC/hr
22,8
dm³/hr
Max rated pump output pressure
350
bar
Options and pricing
The machine has a modular design so the machine can be ordered with a specification according to your wishes.
Prices to be announced soon!
For enquiries and a quotation, contact us via the contact page by clicking the button below